Just like if you get a new sofa or TV, when you decide to get an a fish tank for your home, choosing the right place for it is very important.
This is something that needs to be decided right at the start, as once it is filled with water, or even worse, you have added your fish, it is an absolute pain in the behind to relocate! those things are heavy when filled with water!
This article will discuss where to out a fish tank in your home, and what sort of things you need to consider first.
Things to Consider When Choosing Where to Put your Fish Tank.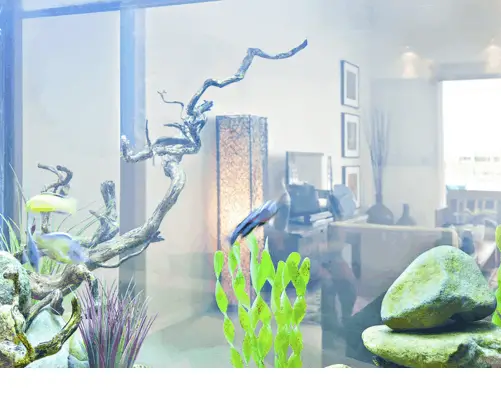 When deciding on a location in your home for your tank, you need to consider the following:
Size and Shape.
You are probably best knowing what size and shape will work best before going out and buying it.
You don't want it too big so that there is nowhere to put it, or too small that it is not appreciated as it doesn't get noticed.
A small tank does work well in some instances though.
If it is a child's tank, they have some really cool small ones that are fine for the bedroom, as long as you follow the same guidelines below.
You can also find some stylish smaller tanks that will go on a desk.
Weight of the Aquarium when it's Full.
This is important as a full aquarium, even a little one, is very heavy. it needs to have a strong unit underneath to be able to support the weight.
20 Litres of water weighs 44 pounds (or just over 4 stone if you are old like me)!
If you are placing the tank in a bedroom, don't put it on a chest of drawers as it will become top heavy and will be very unstable. This could be very dangerous if in a child's bedroom.
Also, don't place it on a unit that doesn't have a solid back, as it won't be strong enough in the long run. Ikea furniture looks lovely, but it isn't built to have massive tanks full of water put on them.
Electric Sockets.
Your aquarium will need at least 3 sockets for the filter, lighting, and heater.
The leads don't tend to be very long for any of these items, so you will need it to be quite close to your tank.
You don't want it directly behind the tank as it could get wet. Having it to the side, and if possible, off the floor is the best solution.
Water.
There are 2 things to consider with regards to water.
You want to be close enough to get it for filling your tank, changing water etc (remember what I said before about water being heavy?).
It is also handy to have somewhere to get rid of the dirty water.
I personally don't want to put it in my sink, and I bet most people are of the same opinion as me.
I have access to outside from where my tank is situated so I can pour the dirty water down the grid, then use the hose to wash the bucket.
Accessibility.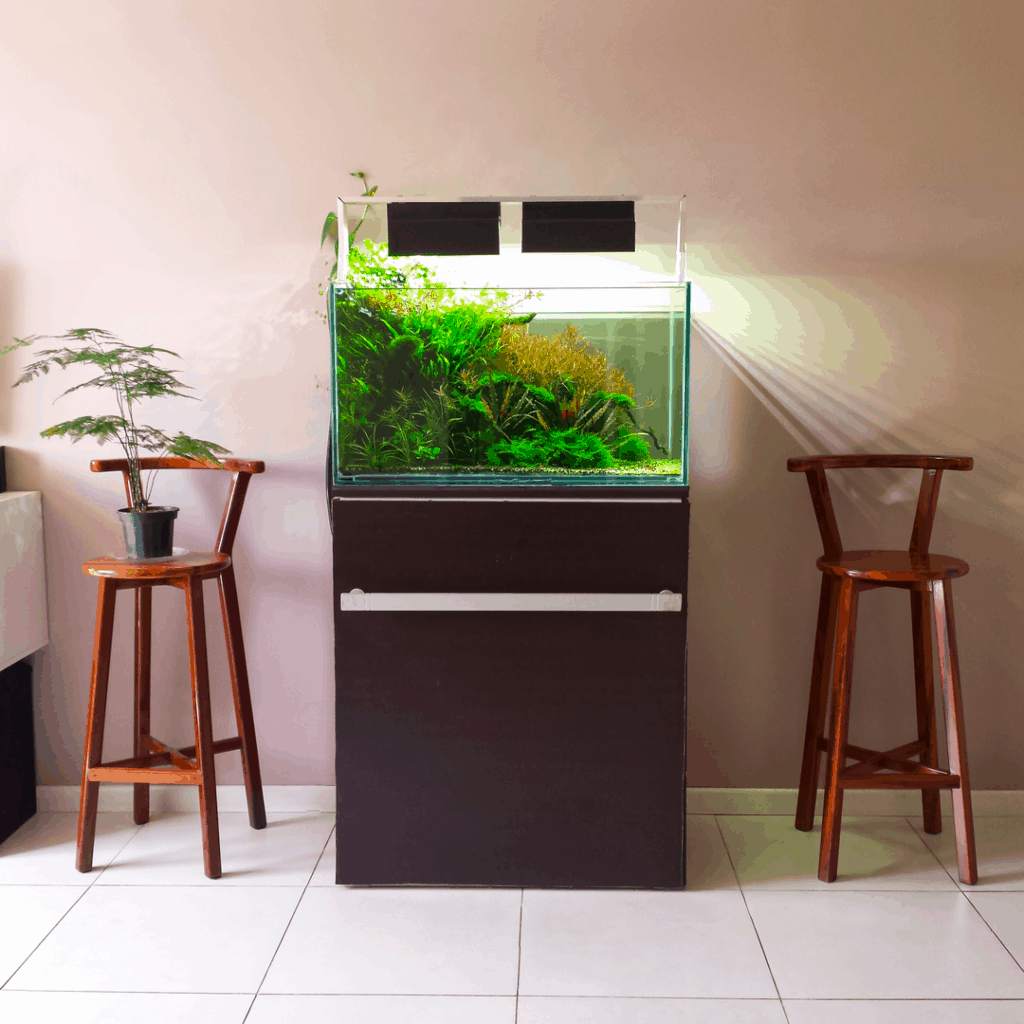 Direct Sunlight.
Placing an aquarium in direct sunlight will encourage quicker algae growth.
If you have algae eating fish in your tank then they will have more food!
Apart from that, it is best not to have the tank in direct sunlight, mostly because it can cause havoc with your water temperature!
Temperature.
You shouldn't locate your tank directly in front of a radiator or under an air conditioning unit as this could affect the water temperature.
You need to have easy access to your tank, to be able to carry out your maintenance easily. The tank may look lovely in a corner or in a built in shelving unit, but it will make things like water changes practically impossible.
It is best if you have a bit of space around at least the front and sides of the tank so you can access it properly.
Doors.
If you have children, and they are anything like mine, they either leave the door open which causes a draught, or they slam it shut so the whole house shakes.
Neither of these options are good for the fish, so I would always advise not to put your tank near a door.
Floor.
Your aquarium needs to be on a level surface. If it isn't, it can put a strain on the glass of your tank.
Vibrations.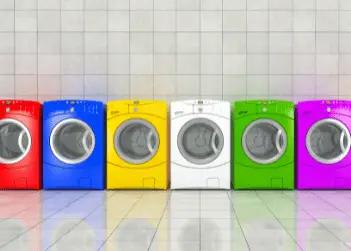 You don't want to place your tank near a washing machine or in a room where there is electrical sports equipment that could cause vibrations which will be stressful for the fish.
Storage.
Fish are similar to babies in that they have loads of stuff!
You will probably need testing kits, nets, algae scrapers, food, bucket, pump, jugs…the list goes on!
I bought myself a tank that had a storage cupboard underneath and I am so glad I did!
Everything to do with our tank is in the cupboard. It's directly under the tank for when I need it and I can't see it so I am not stressing out that the room is a mess!
Visibility.
After going through all these considerations when deciding where to put your aquarium, you need to be able to appreciate the fish once you have them in there!
Try and place them in a room where there is seating in your house so you can actually spend time sitting and enjoying them.
My Fish Tank.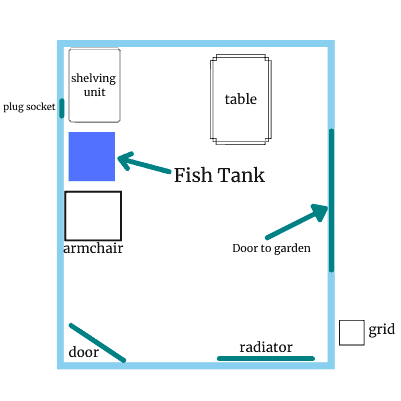 Here is my highly artistic drawing showing you where our latest tank is. It doesn't have any fish in it yet as the water isn't ready.
As you can see in my diagram, the tank is away from the door, radiator and is not in direct sunlight. I have also made sure I am near to an electrical socket and I have space, and therefore easy access to the tank for when I am doing my maintenance.
All of the equipment I need is in a cupboard underneath. I have got a tank with a built in cupboard underneath so I know there is adequate support for the weight of it.
This room isn't a high traffic room, and it's not positioned where people are constantly walking past it. It is also a fairly quiet room. There is no TV or any speakers in there.
The tank is opposite a pair of French doors so light comes in during the day, but it isn't direct sunlight, and the temperature of the room is always consistent.
The French doors come in handy when changing the water as there is a grid in my garden where I can dispose of the dirty water easily.
Related Articles:
What do tropical fish need to survive?
Fishkeeping tips for beginners.
Can I buy tropical fish online?
F.A.Q's.