I recently compiled an A-Z list of tropical fish. There were 441 different fish in this list (you can have a look at it here).
This list is basically what is left from the 441 if you take out any fish that have the letter A in it.
Now, I am sure you are wondering why on earth I have done this (so was I, once I got started on it), but these little quizzes keep on popping up on social media, asking this very question!
I feel I have done my bit for society by sharing this with you. It has taken my ultimate list from 441 down to just 74. These 74 A-less fish could be an answer to a pesky crossword clue you are stuck on though. I aim to please!
Obviously, tetras, gouramis, catfish, rainbowfish, barbs, rasboras, danios, corydoras and angelfish being taken out have reduced it by loads.
So, may I present to you, a list of tropical fish without the letter A.
Tropical Fish without the Letter A.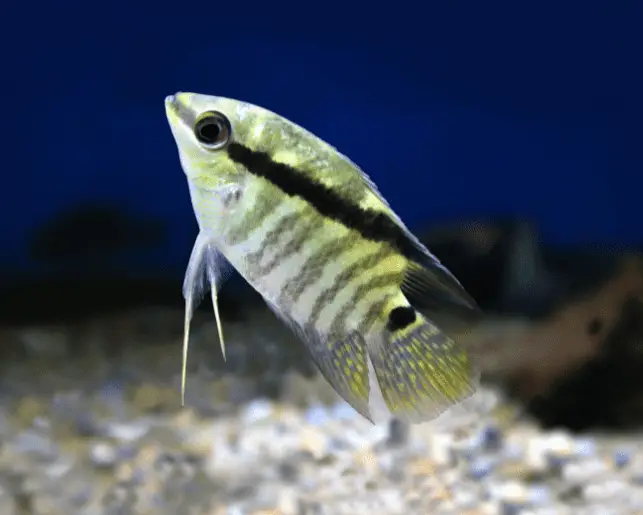 Blonde Guppy
Blotched Mudskipper
Blue Emperor
Blue Tuxedo Guppy
Boelke's Penguin Fish
Bowfish
Bumblebee Goby
Butterfly Cichlid
Butterfly Goodeid
Butterflyfish
Climbing Perch
Clown Killifish
Clown Synodontis
Common Brochis
Common Pleco
Congo Synodontis
Convict Cichlid
Discus
Dogtooth Cichlid
Down Poker
Eyespot Krib
Festive Cichlid
Firemouth Cichlid
Flowerhorn Cichlid
Flying Fox
Four-eyed Fish
Fuelleborn's Cichlid
Golden Bumblebee Goodeid
Golden Fuscoides
Golden Nugget Pleco
Golden Pencilfish
Goldy Pleco
Green Chromide
Green Knifefish
Green Molly
Green Terror
Gunther's Nothobranch
Guppy
Hog-nosed Brochis
Jewel Cichlid
Keyhole Cichlid
Lemon Cichlid
Lesser Spiny Eel
Livingstoni
Mees' Pimelodid
Merry Widow
Mono
Moorii
Mosquito Fish
Peppermint Pleco
Purple-striped Sleeper Goby
Red Devil Cichlid
Round-spotted Gibbiceps
Rusty Cichlid
Severum
Silver Distichodus
Silver Needlefish
Silver Prochilodus
Six-striped Distichodus
Slender Hemiodus
Spotted Goby
Spotted Puffer
Spotted Silver Molly
Spotted Synodontis
Steel-blue Killifish
Striped Synodontis
Violet Goby
Western Mosquito Fish
White Cloud Minnow
White Discus
Wild Guppy
Wolf Fish
Wolverine Pleco
Yellow Krib
Now you are able to show off to your friends and family if ever asked this question!
Related Articles:
Fish that start with the letter A
Fish that start with the letter D
Fish that start with the letter P